Advisors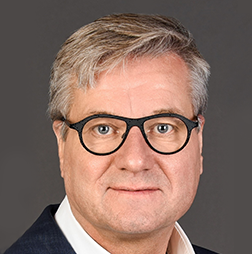 Dr. Frank Hennecke
Frank has 25 years experience in biopharmaceutical drug development, production, and clinical supply, and has held executive management positions in both publicly traded and privately held biotech companies. Frank has been working with pioneering immuno-oncology companies, among them Boston based Checkmate Pharmaceuticals and Munich based Rigontec, where he was the responsible lead for CMC in the acquisition process of Rigontec by MSD for up to €464 million.
Prior to that he worked with Zurich based Cytos Biotechnology for 18 years, where he served as Executive Vice President Product Development, in which function he was ultimately responsible for all CMC-related matters including product quality, GMP and regulatory compliance of Cytos' virus-like particle (VLP)-based investigational drug candidates. Frank holds a Ph.D. in natural sciences from the University of Göttingen and did postdoctoral studies in the group of Professor Andreas Plückthun at the University of Zurich.
Ekkehard Leberer, Ph.D., Professor of Biochemistry
Ekkehard has a pharma/life science background over several decades. He carried out various managing roles in Hoechst Marion Roussel, Aventis and Sanofi (Frankfurt and Munich, Germany), including responsibilities in functional genomics, biological sciences, external innovation, alliance management, and pre-clinical and clinical development of various therapeutic modalities encompassing small molecule drugs and biopharmaceuticals (peptides, nano-/antibodies and oligonucleotides). In addition, from 2012-2018, he has been the Scientific Managing Director of the Innovative Medicines Initiative COMPACT Consortium on the delivery of biopharmaceuticals across biological barriers and cellular membranes, Brussels. Ekkehard offers his broad experience in pharmaceutical drug research and development to clients in academia and biotechnology. He has served as a member in Scientific Advisory Boards of several biotechnology companies, and he is the Head of the Supervisory Board of BioM, Munich, Germany.